How to break the Plateau!
By Katrina Scott on
Bikini Challenge... how to break the Plateau!
Hey guys!! Happy Thirsty Thursday!! Remember to stay hydrated!! A ton of you are rocking it & checking in with us on
facebook
. You're doing fantastic with your workouts, staying on top of printing your routines & including some kind of exercise everyday... even if it's a walk! We love all your recipes too :)
Some of you are asking about
plateauing
.
'How to break through a plateau'
. Remember your body is a working system... it's all science. Calories in, calories out.
To tone up by 1 pound of fat in 1 week, you must create a deficit in calories by 3,500.
3,500 divided by 7 days is 500 calories per day that you will need to create a deficit in with diet & exercise. You can do this by burning 200-300 calories with a 30 minute cardio session on top of your bikini routines! Your HIIT workouts (high intensity interval training) increase your post exercise recovery too, causing your metabolism to burn even more calories at rest! By combining this with eating natural, you
will
tone up! Let it happen! If you want to tone up by 2 pounds per week, that's about a 60 minute workout session and eating approximately 1,600-1,700 calories per day - all very clean & natural food. Not to mention you'll have more energy and all the other benefits that go along healthy eating... cancer prevention, longevity, less stress.. etc. Don't forget to have your rewards here & there- dark chocolate, yogurt with cocoa, an oatmeal cookie - anything less than 250 calories :) We do this 1-2 times a week. (FYI, if you're on our
Nutrition System
, we don't count calories, but this is just a general estimate.)
*** If you're at a plateau and you've been doing all of these steps correctly, let your body catch up! It's just a process. The trick is to push through it. If you let it go every Friday, Saturday and Sunday, that's half the month, so you'll just be at a standstill. Your challenge is to break through it... hydrate, include HIIT cardio, do your workouts we send you every week, include your pyramid training and show your stubborn fat cells who's BOSS!! :)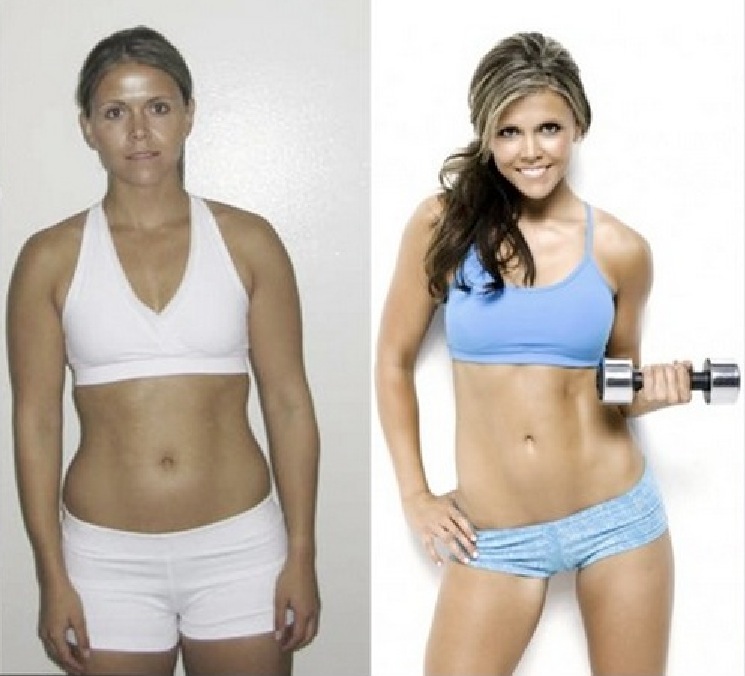 Have fun with it.
You may also like our post on Bouncing back!  Read it
HERE
.  Speaking from experience, I toned up more than 23 pounds (this is Katrina :) The scale went up and down like crazy... but one day I decided to push through it, knowing that something
had
to come from all the hard work. My biggest battle was giving up fake sugar- I was a fake sugar junky! As soon as I started eating what the earth gave me, my body transformed. I hope this helps :) We know it can be frustrating. Just hang tight!
How to break through a plateau'
If you check your Tone It Up Calendar, it says to try something new today! Look up some classes at local studios, try a workout from our channel that you haven't tried yet, take a yoga class or ask a friend to do a workout outside with you. Anything! Check in with us on facebook with what you do :)
http://facebook.com/ToneItUp
H
ow to break through a plateau
How to break through a plateau
Love you guys,
Your trainers...
Karena & Katrina
Did you try your new workout video?
https://www.youtube.com/watch?v=MoeE9VTxvHY?