Our Summer Travel Essentials
By Katrina Scott on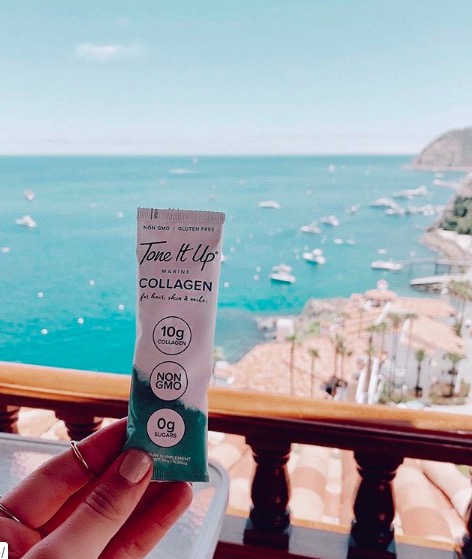 Hey gorgeous! How's your summer going so far? Have any vacays planned?! Kat and I have been traveling a lot this summer ~ to NYC, Hawaii, Austin, Catalina Island, visiting family! And we both have more trips planned in August. It has been amazing experiencing new places and going on adventures! With all the travel, we've been making sure to keep up with our goals and take care of ourselves on the road, in the air, wherever we are. A few of you have asked us what we pack, so we're sharing our summer travel essentials. What are yours? Tell us in the comments! Safe travels babe! ✈️ xxo, Karena

On-The-Go Collagen Packets
Kat and I just launched these on
ToneItUp.com
and they're total lifesavers for summer trips and your busy lifestyle! You can toss them in your purse or carryon ~ we've been taking them everywhere! And because
Tone It Up Collagen
is tasteless, we throw it in anything— coffee, tea, smoothies, salad dressings. We brought these lil' beauties to Catalina for our TIU HQ retreat to throw in our iced coffees! Get ready for antioxidants, healthy hair, skin, and nails, and feeling amazing while on the move!

Booty Bands
Booty Bands
are so easy to pack for traveling and perfect for workouts in your hotel room! We have more than 45 booty workouts in the
Tone It Up app
and a lot them use this little band!
Candles
I make my hotel rooms feel more homey by lighting candles and setting up a mini diffuser. I also bring mini bottles of my fave
essential oils
.
Protein Bars and Bites
The best plane and road trip snacks! They're packed with protein to keep you energized and satisfied on the go. Plus, they're clean, gluten-free, plant-based and non-GMO. Grab them
here
!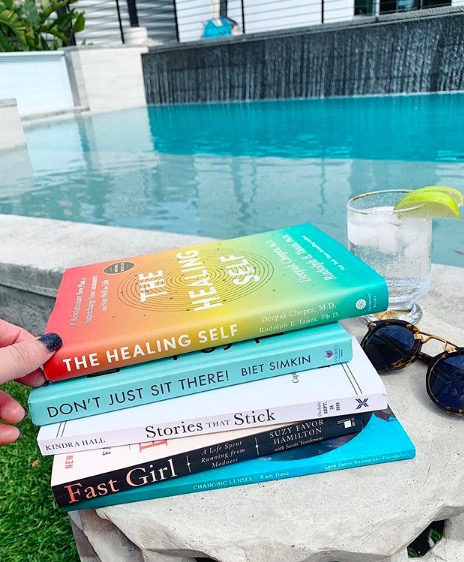 Books
Through all of my travels, I pretty much pack at least 5 books for each trip...even though maybe I get through one! It makes my luggage heavy, but I like options! I can switch from a spiritual read to a memoir to fiction easily. This summer, I've been reading
The Healing Self,
Stories That Stick
,
Fast Gir
l, and
Don't Just Sit There!
Water Bottle
It's so important to keep sipping on water ~ especially since flying can dehydrate you. H20 keeps your metabolism revving, your energy levels up, and your skin looking fab. Kat and I always pack a reusable TIU water battle in our carryon so we can refill it anytime, plus it cuts down on plastic bottles.
What are your travel essentials?! Tell us in the comments!